Rouse Motorcycles has been in business for over 25 years and is a one stop shop where you can purchase your new MX, quad bike, have your bike serviced and source a wide range of parts.
For sales enquiries, ask for Shayn or Nick who both have a wide range of knowledge and will be happy to assist you. Polaris is a proven product that sells itself by being a reliable vehicle not only for farmers, but also the MX enthusiast; they also have a great range of bikes for children. The Can-Am range is our top seller and continues to produce new and exciting models to suit a wide variety of needs. Or if you're after a 2x2 for your next track day ride, or for on the farm, then come in store to see our full range of Kawasaki's including their ATVs and Mule utility vehicles.
​
Shayn Rouse Owner/Manager
Shayn and Jan Rouse founded Rouse Motorcycles Ltd in 1993 and the business has continued to grow steadily over the years. It is located on the main street in the friendly township of Hikurangi just six minutes north of Kamo,Whangarei. Shayn is also in partnership with Yamaha Whangarei on Port Rd. Shayn loves rugby and is a great supporter of Northland rugby. He is also actively involved in the Hikurangi community and the HBA group.
​
​
Ruel Gare – Workshop Technician
Ruel is one of our two workshop technician specialists. He specialises in motorcycle mechanics and has worked for RMC since 2008. Originally from the Philippines.In his spare time he loves relaxing spending time with his family.
​
Nick Stanisich – Parts & Sales Rep
Nick works in our parts department alongside Shayn helping source the parts side of the business as well as being our sales representative and working the sales side as well. He has been with RMC since 2013. In his spare time Nick enjoys spending time with family.
​
Regan Smith – Caretaker & Driver
Regan works here as our caretaker cleaning & maintaining the grubby motorbikes when they come in. He also picks up and delivers clients motorbikes anywhere & everywhere. He also has a passion for locomotives and can be seen driving the steam train in Kawakawa.
​
Jo Tito - Accounts/Administrator Manager
Jo joined us in 2018 and is our Accounts/Administration Manager and helps out with Sales & Finance. She is enjoying being back in Hikurangi and working full time. When not at work Jo enjoys spending time with her family who also have a keen interest in motorbikes, trail rides and sport in general.
​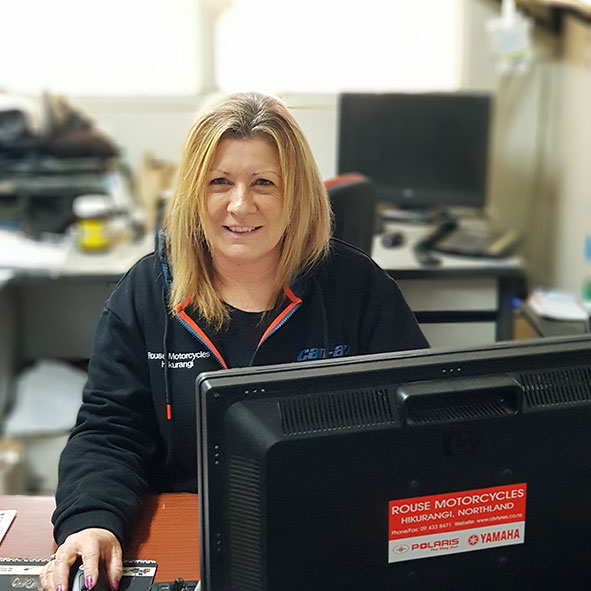 Tod Groombridge – Warranty Sales and Administration
Tod works in our administration department working on the motorbike warranties and sales. She has enjoyed working here at RMC since 2010. She loves classic cars and motorbikes and currently rides a classic 1958 Honda C scooter. She also organises the Hikurangi Auto Madness Car Show.
​
Alex Sio – Mechanic
Alex is a qualified motorcycle mechanic who has moved to New Zealand from the Phillipines. He joined our team in 2019 and enjoys working on farm motorbikes and side-by-sides as a change from road bikes. Alex is a big fan of basketball and enjoys spending time with his children.
​
Lester Lopo – Mechanic
Like Alex, Lester is a qualified motorcycle mechanic who also moved to Hikurangi, New Zealand from the Phillipines. He started at Rouse Motorcycles the same time as Alex in 2019. Another big fan of basketball Lester also enjoys spending time with his family and getting to know our community.
​
James Van Engelen - Parts Manager
​James re-joined our team as Parts Manager late 2018. When not at work James enjoys spending time with family and he plays 1st Division football for Kaikohe.
Steven Fowell – Mechanic
Steven joined our team in July 2019 and is settling in well in our busy workshop. Steven lives locally, comes from a motor mechanic background and is keen to further his career here with us. When not working on motorbikes, Steven loves spending time working on cars and catching up with mates.
​
Jesse Woodward - Workshop Apprentice
Jesse has been with Rouse MC since March 2020 and is working here as our newest apprentice on the tools in the workshop. He's got a real passion for motorbikes and also 4WD'ing, which is where you'll often see him outside of work hours. Off-roading is definitely his thing - he used to own a CRF450 which was his favourite toy in the shed!!
Russell Rawiri - General Customer Service
Russell is one of our part time helpers around the place here. From sales to dropping off bikes and helping in the workshop you'll often see him when you call in. He enjoys keeping himself busy in retirement, which includes his time here (!!), and is also passionate about his bikes - with 12 Rangers and a Harley that he enjoys riding on weekends. His favourite offroad bike is the Outlaw 500.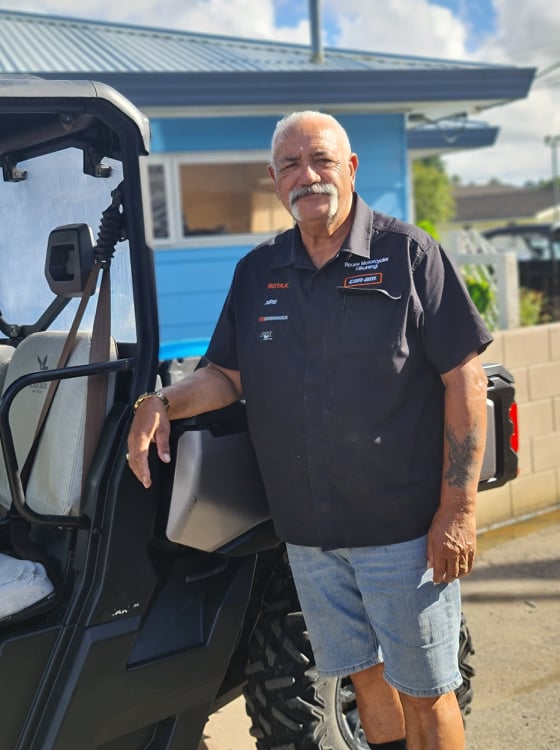 Kieran Manley - General Customer Service
One of the newest kids on the block Kieran helps out with general Customer Service management. He's been with us since the beginning of 2021. He used to be a Truck Driver in the army and has done security jobs in the past. In the weekends if he's not with the kids he keeps himself busy on his latest project building a 1984 BMW R80 classic road bike.